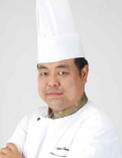 Message From Chef Audee Cheah PJK
Organizing Chairman, Penang Chefs Association
To all Competitors & Fellow Chefs,
Warmest greetings from Penang Chefs Association.
It has come again this year for our 16th edition of Battle of the Chefs 2016. Battle of the Chefs 2014 shown a 60% increase in participation. As organizers, we have parted with the most medals & awards to the winners in 2014.
Again this year it's my great pleasure and honor to invite you and your organization, once again to Battle it out during our "Battle of the Chefs 2016", to be held from 18 – 20 August at our refurbished SPICE Arena – Subterranean Penang International Convention & Exhibition Centre (formally known as PISA), Penang, Malaysia.
This year's Battle of the Chefs 2016 we will be seeing a fully equipped induction kitchen for one of the kitchens in the arena of the 'battle ground'.
This 'Battle of the Chefs 2016' event will be endorsed by the World Association of Chefs Societies (WACS) as a Continental Category Event. We will also be supported, enlisted and endorsed by many a hospitality organization.
My sincere thanks to Dr. Chef Rick & the Board for acknowledging our effort to lift the standard of Asian Culinary skills.
This Battle of the Chefs 2016 will be in its 16th edition, which inaugurated since year 1988. This year will see about 75 Classes of competition events to be staged for competition. We are expecting more than 1800 chefs, food & beverage personnel and housekeeping mates battling it out for recognition and vying for the various top honors too.
The Panel of Distinguished International Judges will be selected from the pool of WACS Approved Judges, and we are expecting a higher level of exhibits and creations be showcased by the participants this year.
In the midst of these great Battles, we hope you will not miss out to visit some of our Unesco Heritage sites and in savoring the many mouthwatering Penang cuisines. We earnestly hope and wish that we will make you really feel at home when you are with us.
Please feel free to contact me if you have any query.